Our Vision and Mission
Our Determination
Towards a prosperous society vibrant with life
We are convinced that a future in which myriads of living beings coexist on this Earth while all people enjoy a prosperous life is created through the choices we make today.

We are determined to lead the way in building a bridge to this future society brimming with hope and opportunity.
Our Promise as a Bridge Builder
We will, through our business and in collaboration with a variety of partners, contribute to the creation of a prosperous society vibrant with life. In order to fulfill this promise, we will continue to convey messages, make proposals, and implement the actions required.
Conveying Messages
With insight, we will point to the crucial issues of our time, conveying messages that foster hope and help people see and think in a new light.
Making Proposals
With foresight, we will help set the right direction for the future, proposing specific solutions and actions to our clients and partners.
Implementing
With commitment, we will act on our own and in collaboration with our stakeholders to achieve the greatest possible ripple effect.
Three Values and Three Returns
Our measure of success is not merely "financial value." At the same time, we aim to raise our ability to inspire real change - "transformation value" - and to expand the network with which we collaborate - "engagement value." Through the tireless pursuit of these three values, we hope to realize three forms of return from our business: "stakeholder return", "social return", and "future return."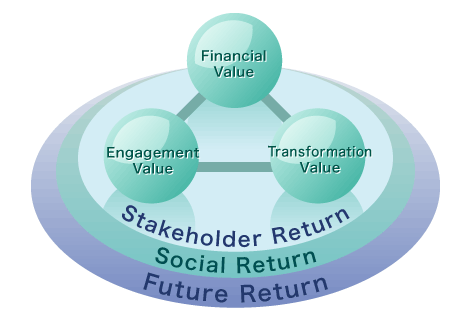 The Five Golden Rules -Our spirit and values-
1.Stay Positive
Be a constructive optimist - find an opportunity in every challenge.
2.Action Breeds Results
Act proactively and honestly - the only way to expand influence.
3.Pursue Breakthrough
Never be satisfied with the mediocre - quest always for the better.
4.Exceed Expectations
Continue self-renewal and improvement - deliver results above the expected.
5.Make a Difference
Do what is right and keep doing it - one day the world will move.