Overseas Expansion and Business Development
Overseas Expansion and Business Development
E-Square's BOP and Inclusive Business Implementation Support
In emerging and developing countries, BOP and Inclusive Business for the 4 billion plus members of the underserved Base of the Economic Pyramid (BOP) class is gaining attention. The size of this latent market, estimated at about USD 5 trillion, is expected to generate 70% of growth around the world as it continues to emerge.
On another front, if one considers climate change, the waste problem, resource depletion, and other environmental problems, as well as social issues such as poverty and forced/child labor, the limit of the economic development model of advanced nations is clearly visible.
As social and environmental problems are met, at each stage of the corporate value chain, together with (BOP) partners, a sustainable business model that creates value is sought after.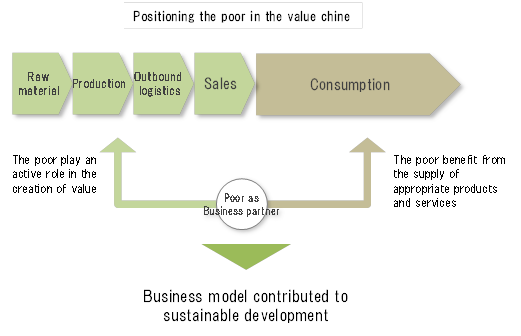 ※BOP(Base of the economic Pyramid)
Service Offerings
E-Square provides following consulting services based on our business experiences in CSR/Environmental management field
Proposal drafting support for a public sector bidding
Market research and Overseas visit support
Feasibility Study implementation support
BOP/ inclusive business start up
Service Features
Global network
Finding social issues from business view point
What is BOP and Inclusive Business
BoP business is expected to achieve both financial returns as well as social .returns